So I know I haven't posted much beauty related here on the blog, but I thought it might be fun to let everyone know a few of my current favorite beauty items. I have been interested in makeup for as early as I can remember. I have been doing friends and family's makeup for special events like dances, pictures, and even weddings for years. I even thought I wanted to go to Cosmetology school for a while. But where my real passion is makeup, I didn't care to mess with hair cuts, colors, perms, and nails. If I could ever afford it to stock up on a decent makeup kit, I would do freelance makeup artistry. But for now, I just do it for fun.
The first couple of my faves, is from Tarte Cosmetics-


I'm seriously in love with this stuff. It goes on so smooth, and does really well with my sensitive skin. Since it is a full coverage foundation, it covers my blemishes really well without being too cakey. It is also very fine that it almost feels creamy going on. The price tag is a bit steep considering I'm used to buying drug store makeup, but the quality is so much better than the L'Oreal mineral foundation I have been using for years. I also think it will last much longer because I don't have to use as much. My only wish is that the airbuki bamboo powder foundation makeup brush that is supposed to go with it wouldn't be so expensive. After spending almost $40 on foundation, spending another $26 on the brush is way too steep for me.
Next is the-
I got a sample of this when I purchased the Amazonian Clay Airbrush Foundation. I wasn't too excited about it, and waited a few weeks of having it before I even tried it. I'm only glad I waited that long because it means it will last me that much longer before I have to buy more! This stuff is am-a-zing. It goes over your makeup and holds it in place so that your foundation lasts all day. My favorite part about it is putting it over your under eye concealer instead of a regular pressed powder. It doesn't crease, and all fine lines are blurred, and concealer stays in place all day. I also got a BB Tinted Treatment 12-Hour Primer as a sample and am really loving that as well to put under the Amazonian Clay Airbrush Foundation. This is my first experience with Tarte Cosmetics, and I'm really impressed with their products. I just wish my budget would allow to try some more.
The next couple of my favorites are much more wallet friendly. First there is the e.l.f. Essentials Eyelid Primer-
This was SUPER reasonable at only $1.25 at my local grocery store. But don't let the price tag fool you. This product does everything you would expect an eye shadow primer to do. After using this, and wearing it all day, my eye shadow stays in place and doesn't crease at all. I would highly recommend this product especially to people with combination to oily skin.
I also am loving the e.l.f. Essential Waterproof Eyeliner pen right now.
It was the same price as eyelid primer, and it is a great pigmented eyeliner. I really like the way it feels like a fine-tip marker which makes application much easier for those who have a hard time with liquid eyeliner. The only issue is that it is not what I would consider waterproof. Maybe only smudge proof.
My last two favorites are products from Sally's Beauty Supply. The first is Miracle 7 Leave-in Mist-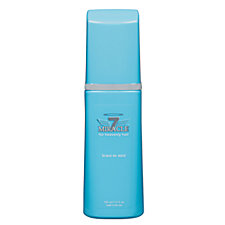 I have really long hair that I rarely trim which makes it easy to get split ends. But the last 5 months I have been using this product every time after I wash my hair and I have seen a good difference in the amount of breakage I experience. For anyone that is trying to grow their hair out and wants to avoid damaged ends, this is a great product. Plus, it smells so yummy and costs under $14!
Last but not least is the Sally's Brand Meta Grip Premium Bobby Pins-
The price tag on these are $8 for 300. They are seriously the best bobby pins ever. You will never going back to using any other brand after trying these. They never slip out, rust, get stretched apart, and they don't have the rubber ends that can be pulled off. Everything that you don't like about bobby pins is solved with these. I have had the same ones for over 2 years now, and they are exactly the same as when I bought them.
Well, there is a round-up of some of my favorite beauty products! I would love to hear of any products you guys would recommend. Let me know in the comments!